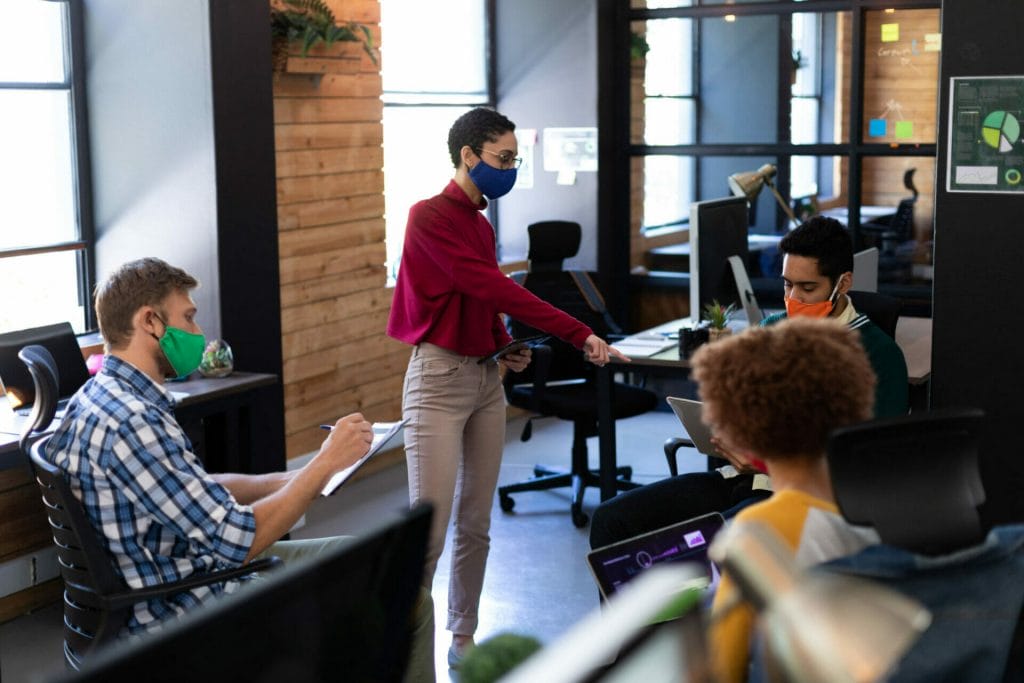 What is DEI? + How to Move Beyond the Training
MAR 01, 2021
Diversity, Equity + Inclusion (DEI) has become a leading business priority in HR and business circles over the last year—and rightfully so. I am energized by the overdue attention on such an important issue. Now it's up to all of us to ensure that the work continues to have a lasting impact on racial justice, LGBTQ+ inclusion, appreciation for intersectionality, gender equality, and championing truly safe cultures that embrace each person for who they are.  
The first conversation we have with clients who want to strengthen their DEI is about the importance of a holistic approach. We make it clear that DEI is not about checking a box that you've completed annual training. It's about infusing DEI throughout the entire employee experience, and weaving it into the DNA of the organization. Training is a step, but it's just that, a step.
Leaders have largely embraced DEI training, but what comes next? 
The big question looming over HR and business leaders now is: "We did the DEI Training. Now What?"
First, let's take a step back to see what we really mean by DEI. 
What is Diversity, Equity, and Inclusion?
I love the way one of our Experts, Dave Ciliberto, defines the difference between diversity and inclusion. Diversity is getting employees from various demographics and with different life experiences through the door. Inclusion is getting those employees to stay, but more than stay, to feel so comfortable, hear their own music, and feel so seen that they're willing to dance. 
Equity involves understanding that not everyone's path is the same. This is where female, LGBTQ+, Black, multi-generational, and other ERGs, mentorship programs, and professional development paths have an impact. Inspire Expert Rickey Jasper shares great examples from his time as a DEI leader at the CIA in a recent session of Inspire's Redesigning the Future of Work. 
We are thrilled to see leaders setting DEI as a priority—and to see both the human case and the business case for doing so. The stats on the business side are clear. McKinsey has found that organizations with more diverse executive teams are 33% more likely to outperform their peers. And according to Monster, 83% of Gen Z candidates say a company's commitment to DEI is important when choosing an employer. 
But Chu Wang of the Harvard Kennedy School Review reminds readers that the human case is even more important than the business case—a commitment that leads Inspire's work in the DEI space. 
"Promoting D&I shouldn't be voluntary, but rather necessary and principled. Firms shouldn't cherry-pick when and where to apply D&I efforts based on the flawed business case. Rather, they need to view D&I as a moral responsibility. Only through this framing can firms better contribute to creating a more equitable and inclusive society." – Chu Wang
With mental health challenges on the rise and increasing displays of racial injustice, DEI is a critical component of effective leadership. It's a way for leaders to show that they are human—above all else—and that they recognize the same in their team members. 
Back to the original question: "We've done the DEI training. Now what?" Let's take a look at crucial aspects of the training, the follow-up, and the future-planning as it relates to DEI. 
Essential components of an effective DEI training
DEI is about more than what you should not do. Training must also incorporate proactive elements for behavior at every level of the organization. 
It is important to consider alignment, definitions, metrics, and plans for bringing lessons learned outside of the training room. While Inspire customizes our approach to each client's needs, our approach is built around a consistent framework that focuses on the most critical factors, including:
Understanding systemic racism

Exploring individual and company lenses

Identifying implicit biases and microaggressions

Creating an action plan with metrics to truly advance DEI beyond the training  
Evaluate Progress
It's critical to carry the training momentum forward by building structures and metrics to promote DEI through continuing the conversation—demonstrating to your employees that you are not relying on a one-and-done approach. 
A real commitment to DEI means connecting it to how you determine success and progress. In addition to metrics that we're all used to seeing in performance reviews, like revenue growth, employee retention, and speed to hire, the following metrics can be built into a leader's or team's dashboard:
Applicant pool diversity

ERG participation

Job offer acceptance and declinations across demographics

Promotions among women and members of minority groups

Compensation equity
Leaders also must keep the conversations going to give employees opportunities to share their experiences with microaggressions and other biases—especially as they relate to a leader's actions. This is the time to listen to employees and ERG representatives. We're working so hard together to create a safe space for these conversations and we can't afford to let them close back in. 
Continuously Re-Assess and Learn From Mistakes
In 2014, Apple began releasing its annual diversity report. At that time, women made up approximately 30% of the tech giant's workforce and Black and Hispanic employees were represented in the single digits. Fast-forward to today and Apple is recognized as a leader in DEI efforts. Their diversity report shows how the variation of life experiences among their employees has become one of their greatest strengths. From achieving pay equity for women and underrepresented minorities, to creating an inclusive culture for veterans, Apple has made a commitment to hire diverse talent and increase representation across the company. 
What did Apple do? They were consistent and committed to their diversity goals by holding each other accountable for progress. 
By recognizing that the work is never done, companies lauded for their DEI success focus their efforts on open communication, removing structural barriers and bias, and building equity across the employee experience.
Diversity is not just the latest business trend—it is one of an organization's most valuable assets. Identifying the issues, using improved training efforts, and continuously assessing progress can help shift the culture of the organization to one that is diverse, fair, and inclusive.