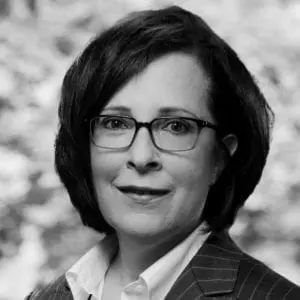 HR Business Partner
Fractional work makes me whole for
Community service, cycling and bird watching
Mindy London
Mindy London (she, her) has worked in change management, organizational development, leadership and learning for Fortune 100 companies and start-ups since 1997. Her passion is guiding organizations to effectively drive transformation and change with creative ideas and pragmatic solutions aligned to future business state.
Most recently, at ITT, Mindy's focus was employee engagement and diversity & inclusion, with the goal of enhancing a healthy, high-performing culture linked to innovation and growth. Throughout her career, she has led numerous change management/OD projects. Mindy provides expertise, counsel and deep understanding of the tools required to enable leadership to navigate business change through the design of change plans and tools (including assessments) and by partnering with senior leaders, key stakeholders and employees to effectively understand, manage and digest implications of the change. In addition, Mindy provides organizational structure design and guidance related to maximizing effectiveness of new or enhanced structures and product launches by using tools such as RACI, role clarity profiles, process/system optimization and employee reach-outs all designed to support an organization.
In addition to ITT, Mindy has worked at Honeywell and Teva Pharmaceuticals in education and leadership development roles. She began her career in corporate bond trading and software application adoption and training at Morgan Stanley and Goldman Sachs.
Mindy holds an MBA in marketing from Fordham University.  She received her BA in communications from American University. Mindy is Six Sigma Green Belt Certified.
Is your HR team stretched to its limits?
We're the flexible resource that makes a lasting difference.
Contact Us