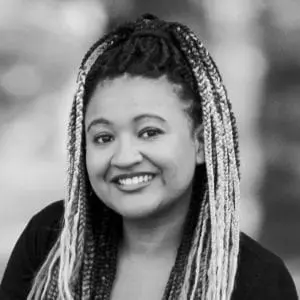 Project Manager
Working flexibly allows me to...
Have more control over the way I spend my 24 hour day
Whitney Marsh
Whitney has worked in project management and operations since 2020. Her experience includes diversity, equity, inclusion + belonging, curriculum development, and anti-racism training.
Prior to joining Inspire, Whitney served as director of operations and head of curriculum development at Yum Yum Morale. In this role, she helped organizations of all sizes design and advance their DEIB strategies by developing custom educational courses and working one-on-one with clients to ensure clear communication and outcomes. She also facilitated various educational sessions with clients.
In addition, Whitney has developed course curriculum for educational institutions around understanding and appreciating identities in the workplace and created multi-media marketing content for companies across multiple industries.
Whitney holds a Master of Arts in Ethnic Studies from Colorado State University. Whitney received her Bachelor of Arts in Political Science with a concentration in legal studies from Colorado State University and is completing a certificate in Data Analytics.
Is your HR team stretched to its limits?
We're the flexible resource that makes a lasting difference.
Contact Us