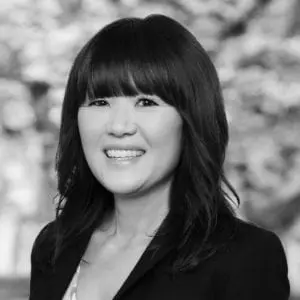 Talent Management
Fractional work makes me whole for
Pursuing my passion of conducting research on workplace identity to help Asian women advance in the workplace.
Yon Na
Yon Na (she, her) has worked in HR and organizational psychology since 2003. She specializes in coaching, talent management, and fostering positive company culture through organizational effectiveness and psychology.
Yon has worked in Human Resources Management, Leadership Development, and Organization Effectiveness in Fortune 100 and high-growth companies, including Warner Bros., The New York Times, Microsoft, Johnson & Johnson, and Nordstrom. Her experience includes enhancing effectiveness through organization assessments to identify, design, and lead solutions such as executive off-sites, coaching, team development sessions, and customized learning workshops.
She is the founder of Radiance HQ, an organization dedicated to advancing Asian women in the workplace. Yon developed the Radiance Leadership Development Program, which combines her research on Asian identity, organizational psychology, and her experience working in Fortune 100 companies.
Yon holds a doctorate in Organizational Psychology from the California School of Professional Psychology at Alliant International University. She received her Master's in Industrial/Organizational Psychology and a BA in Business Administration from Golden Gate University. She is a member of the Organization Development Network, Society of Industrial/Organizational Psychologists, American Psychological Association, and the International Leadership Association. She is certified in Korn Ferry's Emotional and Social Competency (360) Inventory, Leadership Styles Assessment, and Organizational Climate Survey
Is your HR team stretched to its limits?
We're the flexible resource that makes a lasting difference.
Contact Us