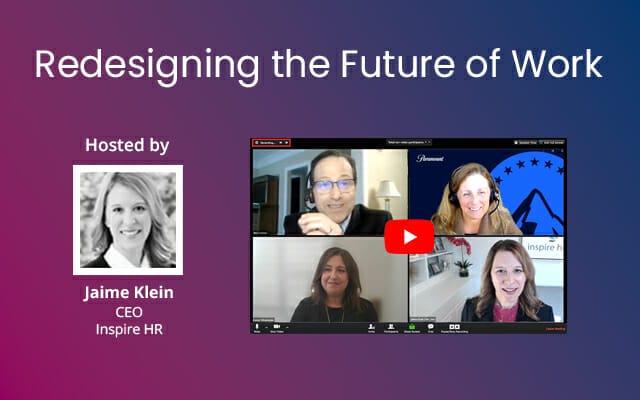 What Really Keeps Top Talent Engaged
APR 03, 2023
What Really Keeps Top Talent Engaged
Hot take: bonuses and raises aren't keeping your team engaged.
So what really works?
Employee well-being is the key to retention and engagement. And this should be great news for HR and business leaders because it means you have an opportunity to make a big difference – no matter your budget.
A panel of experts from Johns Hopkins Medicine, Paramount and Inspire HR recently came together to discuss employee well-being as it relates to engagement and retention. It's a session jam-packed with takeaways for HR leaders, most notably:
Help employees reduce stress. Dr. Richard Safeer shared that stress reduction is the #1 area he likes to see companies focus, because less stress will positively impact a person's health in many ways.
In order to increase your CEO's focus on employee well being, appeal to their analytical, innovative and competitive minds (i.e., employee engagement data, market trends and competitors' practices)
Focus on the teams. While we want the tone set from the top, middle managers and team leaders are your greatest asset for integrating well-being into their everyday agendas but they need tools to help them have the difficult conversations.
Time is what employees want more than any other benefit. Flexible scheduling, remote work opportunities, and upgrading paid time-off policies give employees more time and freedom.
Employees need active leadership. Managers need to show that they care and facilitate prioritization of work.
The 3 C's to support your team's wellbeing: Connection, Challenge, Choice. The right combination of employee purpose, making employees feel valued, providing challenges that are not too challenging and providing employees with autonomy when possible will make employees feel more engaged and fulfilled in their roles.
This is a session you'll keep coming back to.
Watch the full session
Meet the Panelists
For the past 20 years, workplace health pioneer and thought leader Richard Safeer, M.D. has assessed cultures, trained leaders, and conducted and explored research on the intersection of individual and organizational behavior. Dr. Safeer currently serves as the Chief Medical Director of Employee Health and Well-Being for Johns Hopkins Medicine where he leads the Healthy at Hopkins employee health and well-being strategy.
Previously, he was the Medical Director of Preventive Medicine for CareFirst BlueCross BlueShield in Baltimore, Maryland. In January 2023, with publisher Wiley, Dr. Safeer released A Cure for the Common Company: A Well-Being Prescription for a Happier, Healthier, and More Resilient Workforce. Dr Safeer is the first author to provide a step-by-step roadmap for creating a well-being culture that integrates science with practical solutions as demonstrated by the numerous real stories from successful companies.
He is a fellow of the American Academy of Family Medicine, the American College of Lifestyle Medicine, and the American College of Preventive Medicine. He serves on the New England Journal of Medicine Catalyst Insight Council and previously served on the board of directors for the American College of Lifestyle Medicine.
Learn more about Richard at www.richardsafeer.com
Michelle Martin is Senior Vice President, Total Rewards Experience at Paramount where she is responsible for employee health, employee engagement and the development of HR policies. Michelle has an extensive background in supporting health and well-being. She is a champion for workplace mental health programs and is committed to designing and implementing programs and policies that help employees live their best life.
Michelle is a Certified Employee Benefits Specialist with a certification in global benefits management. She holds an MBA from Adelphi University. Michelle is an active member of the human resources community, serving on the advisory council for the Center for Workplace Mental Health and on the board of directors at the Northeast Business Group on Health and The Leapfrog Group.
Karen Vitantonio is an Expert at Inspire Human Resources who specializes in talent management and coaching. Her experience includes: organizational development, change management, succession planning, and developing high potential talent. Most recently, Karen served as Chief Expert of Talent Management at a global software organization, where she brought a keen focus on succession management and high potential development to promote business sustainability and maximize ROI. Previously, as Senior Director, People + Organizational Growth, Karen introduced a vision and strategy to shift the global company's approach to talent management. Additionally, Karen has held various senior HR roles where she partners with business leaders to drive organizational readiness and business results.
Redesigning the Future of Work