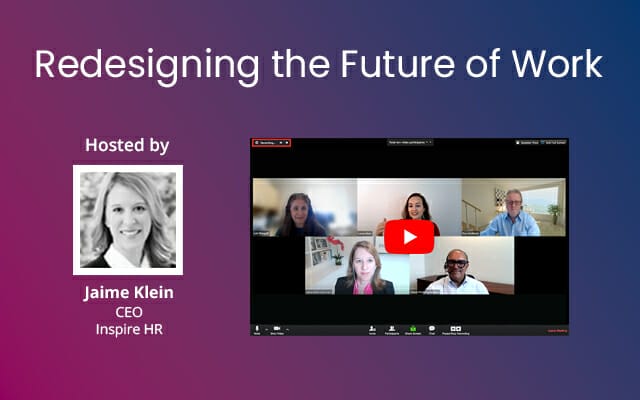 Equitable Total Rewards
JUL 19, 2022
Equitable Total Rewards
Competitive compensation and benefits offerings are crucial for retention and recruitment. But most importantly, total rewards play a key role in a company's commitment to equity.
We came together just days after Juneteenth, in the middle of Pride Month, during the year when pay transparency will go into effect in New York City to talk about a topic central to the pursuit of equity: total rewards.
Panelists dug into their diverse experiences and deep expertise to offer tips like:
Bring data and statistics to your CFO for budget discussions. Your CFO has never managed in a time like this, and is hyper focused on rising costs. Show how new positions, expanded benefits, or higher wages benefit the bottom line. (Inspire has lots of data here. Happy to help).
Rethink financial wellness by discovering your employees' actual financial goals. Research shows, maxing out a 401K may be very important to white men, but it isn't necessarily a top priority across the board. Ask and you'll discover goals like buying a first home, paying for a loved one's education, ensuring financial stability for a loved one and more.
A recent survey in Canada revealed that 45% of transgender and nonbinary respondents have experienced an unmet health need over the last year. There is power as a group of employers to push benefits providers to prioritize diverse networks that include primary care providers with experience caring for transgender people or Black mental health clinicians. (This is a slow and steady push, given the shortage of providers).
Lean into disease management programs for conditions that disproportionately affect BIPOC individuals, for example heart disease and diabetes.
Consider stipends as inflation soars. To compete with rising salaries and inflation, some companies are turning to gas cards or other stipends to try to wait out this costly period. Others are distributing increases twice per year to spread the cost semi-annually instead of all at once.
To prepare for the requirement to include salary ranges in job postings, assess current pay levels now (or yesterday). Build out a consistent structure now, so job postings align with internal ranges.
About the Panelists:
Lacey Horn, Founder + CEO, Native Advisory
Lacey Horn is the founder and CEO of Native Advisory, a strategic financial consulting firm working with Native American Tribes, helping them achieve True Tribal Sovereignty. Lacey is a licensed CPA and specializes in cryptocurrency education. She is a citizen of the Cherokee Nation for which she served 8 years as the Nation's Treasurer, overseeing the finances of the largest federally recognized tribe in America. Currently, she is the chairwoman of the board for the Native American Rights Fund and a trustee of the Smithsonian's National Museum of the American Indian. Lacey is the former chairperson of the U.S. Treasury Tribal Advisory Committee.
Charles J. Privitera, Jr., Vice President, Workplace Solutions Group, Goldman Sachs Ayco
Charles (Chuck) Privitera is a Vice President in the Workplace Solutions Group at Goldman Sachs Ayco., a relationship manager, and business development executive. He assists his clients with the design, implementation, and investment monitoring of their retirement plans, financial well-being of employee participants, human capital advisory services, and diversity and inclusion issues in financial benefit utilization. Prior to joining Goldman Sachs Ayco, Chuck spent much of his career in benefits and human resource consulting. He is a nationally recognized influencer around the topic of financial inclusion. A major focus for Chuck has been the financial well-being of employees who are typically left behind by the financial services industry.
Ray Goldberg, Founder, Pier Forward
Ray Goldberg has deep experience leading and consulting in HR, benefits, technology, operations, and transformation at large employers including CIBC, Deutsche Bank, Lucent Technologies, and Marsh McLennan. He founded Pier Forward to help employers address DEI challenges in the benefits arena, with a firm belief that organizations perform better when people are healthy and engaged, yet employers may not fully address the wide range of people's needs. Ray is particularly focused on reducing the systemic barriers that lead to societal disparities. He also founded the Wellie Forum, where experts and practitioners explore how Wellbeing and Benefits programs can foster Inclusion and Equity. He has spoken and written on wellness, retirement, HR technologies, and leading change. His most recent article, "Why, Who, What, and How: A Framework for Addressing DEI in Benefits," was published in Benefits Quarterly this year.
Lori Glasgall, Inspire HR Expert, Total Rewards
Lori Glasgall is an Expert with Inspire HR who specializes in compensation design. Her extensive experience includes the evaluation, design and implementation of base pay, executive compensation, variable pay, international compensation, and performance management programs. She recently designed a comprehensive framework for an organization struggling with high turnover that prioritizes transparency and empowering employees to realize their career goals within the organization. Lori has worked with Fortune 500 companies including Texaco, as well as high-growth, start-up and non-profit organizations.
Redesigning the Future of Work