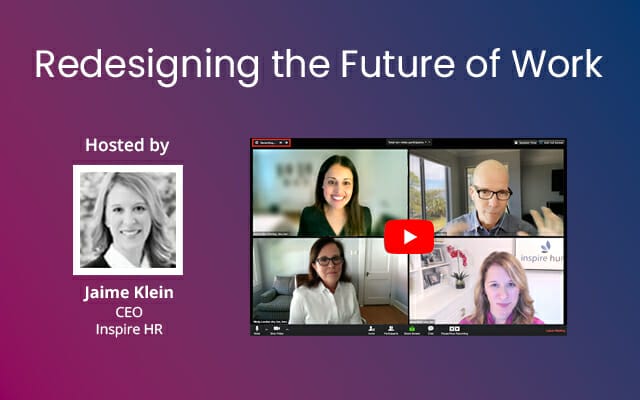 HR at High-Growth Companies (Continued)
OCT 19, 2022
HR at High-Growth Companies (Continued)
This session is tailored to HR and business leaders at high growth companies, private equity and venture capital firms. A panel of HR experts approach key HR trends and challenges through the lens of high-growth leadership, including:
Employee engagement
Pay transparency
Change management through mergers and acquisitions
HRIS do's and don'ts
Watch the full session
Key takeaways
Here are the top takeaways we heard about HR at high-growth companies:
Staffing
When prioritizing roles across the organization while rapidly scaling, keep asking yourself, "Is this going to make the boat go faster?" If not, look for a better choice as your top priority. Always be guided by the north star of the organization's top goal. This will help assess what skills you need to prioritize for your HR team. Then be prepared to present the ROI on new hires to your CFO.
Employee engagement
As you are scaling, recognize that a lot of change is happening. Go out of your way to listen. "You have two ears and one mouth – use them in that order."
Ensure that diversity, equity, inclusion and belonging (DEIB) stays at the top of the leadership agenda even with multiple competing priorities. One idea is to have the leadership team spearhead building a team charter and acknowledge that every leader shares responsibility for upholding it.
Pay transparency
Pay transparency drives attraction and retention and sets the tone about equity across the organization. Keep in mind that even the smallest organization can access market data to benchmark pay for critical roles (check out salary.com). Read more about how employers can prepare for pay transparency.
Change management in mergers and acquisitions
Take your time to assess if the organizations are a good fit. Align values and understand cultural norms for each organization to set a path toward successful integration. Make sure managers are equipped to share messages and answer questions and that they understand the why behind an M+A. The ultimate driver of change and alignment has to be the CEO.
HR Information Systems for high growth companies
Think about what you're going to need down the road, not just today. Then prioritize which functions are the most important so you can get most of that solved with one integrated solution. The Pareto Principle (80/20 rule) will help you here. It's better to solve the top issues and get a "good enough" response to the lesser priorities instead of trying to connect multiple systems that all do different things.
Additional resources referenced by the panel:
"People before strategy: a new role for the CHRO"
"Disrupting the CHRO: Following in the CFO's footsteps"
About the panelists
Purvi Taylor, Vice President, Human Resources, Ferring USA
Purvi Tailor is responsible for Ferring USA human resources and is a member of the Ferring Global HR Leadership Team. Purvi has over 25 years of human resources management experience working in diverse industries, including pharmaceuticals and financial services. Previous roles include Head of Human Resources for Johnson & Johnson's North America Commercial Medical Devices & the Strategic Customer Group, senior HR business partner roles with American Express and JP Morgan Chase and marketing and communications for RiskMetrics Group.
Barry Marshall, Founding Partner, P5 Collaborative Consulting
Barry Marshall is a global executive with over 25 years of experience in operations, risk management, data and analytic modeling, strategy, facilities, human resources, and project management. He has built and managed teams across North America, South America, India, and Southeast Asia supporting organizations from startups to the Fortune 100. Prior to co-founding P5 Collaborative Consulting, he led the People function for multiple tech startups. He has also held senior global HR and operations roles at JP Morgan.

Mindy London, Inspire HR Expert, Senior HRBP
Mindy London is an Inspire Expert who has worked in change management, organizational development, leadership and learning for Fortune 100 companies and start-ups for 25 years. Most recently, at ITT, Mindy's focus was employee engagement and diversity & inclusion, with the goal of enhancing a healthy, high-performing culture linked to innovation and growth. Previously, Mindy has worked at Honeywell and Teva Pharmaceuticals in education and leadership development roles. She began her career in corporate bond trading, software application adoption and training at Morgan Stanley and Goldman Sachs.

Redesigning the Future of Work