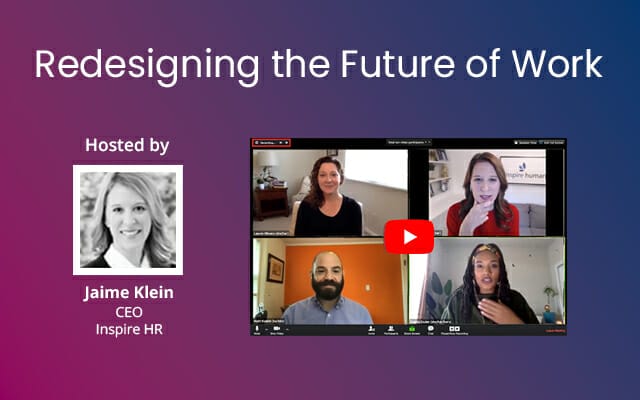 Mental Health at Work: Support, Inclusion + Realistic Expectations
OCT 30, 2020
Part of our ongoing series, "Redesigning the Future of Work."
HR and business leaders cannot afford to ignore the mental health challenges facing their employees. Between the coronavirus pandemic creating additional burdens at home and stressing household incomes, and the emotional burden of incessant reminders of racial injustice in our society leaders and employees alike are feeling the strain. Addressing mental health at work is a major challenge for any business—particularly in this climate.
Four times as many adults report symptoms of an anxiety disorder today compared to one year ago.
More than half of Americans report that the pandemic is negatively impacting their mental health—a number that jumps to 68% among Black Americans.
In Mental Health At Work: Support, Inclusion + Realistic Expectations our expert panelists shared practical tips and insight drawn from their diverse experiences, insight and expertise.
Watch now to hear about these findings and more:
76% of people believe companies should be doing more to support the mental health of their employees.
Sophia Dozier shared how the IBM Work From Home Pledge helps establish realistic expectations and was initiated within their Women's Executive Council.
Lauren Winans, our Inspire HR Expert who specializes in Employee Benefits gave us a preview of benefits plans for 2021 and beyond, including a greater focus on telehealth and additional offerings like child care credits.
Matt Kudish of the National Alliance on Mental Health, NYC shared how something as simple as opening meetings by asking people to rate their mood from a 1 to 10 could be a very useful tool for managers to check-in with their teams.
Mental Health At Work Featured Panelists:
Sophia Dozier, Diversity and Inclusion Leader, IBM
Sophia Dozier is a data-driven Diversity and Inclusion Leader at IBM, focused primarily on the Native American and Pan-Asian communities. In this role, she actively promotes an inclusive culture that supports the mental health of every individual in the organization. Sophia has been with IBM for 5 years, leading paid media strategy prior to her current role in Human Resources and D & I.
Matt Kudish, Executive Director, National Alliance on Mental Illness of NYC (NAMI-NYC)
Matt Kudish is the Executive Director of the National Alliance on Mental Illness of New York City. NAMI-NYC helps families and individuals affected by mental illness build better lives through education, support, and advocacy and has been a leader in providing tactical solutions and strategies for self-advocacy around mental health in the workplace through COVID-19. Named to City & State's "Health Power" list for the last two years, Matt is recognized for his expertise and leadership.
Lauren Winans, Inspire Expert, Employee Benefits
Lauren Winans is an Expert on the Inspire HR team who has worked in employee benefits roles at global, multi-generational, geographically dispersed organizations since 2003. Lauren's experience includes developing benefits plans that meet the needs of varied workforces ranging in size from 1,700 to 35,000 employees including GNC, American Eagle Outfitters, and CONSOL Energy.
Redesigning the Future of Work