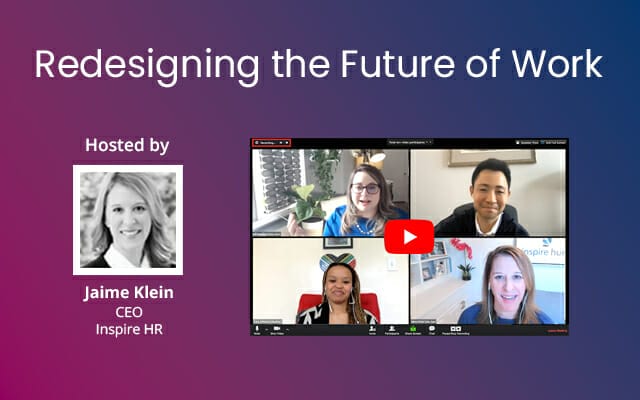 Retention + Employee Engagement Strategies
MAR 08, 2022
Retention + Employee Engagement Strategies
Retention is top of mind for every company today, and rightfully so. Close to 40% of U.S. workers are looking to change jobs in 2022, Fidelity Investments reported early this year. That's not good news, considering the market is already flooded with job opportunities. Just last year, the number of open job postings in the U.S. rose by 33%. That means stiff competition for the best talent. More than ever, companies have to retain and engage their best people.
HR and internal communications experts recently joined host Jaime Klein to share their tips and strategies for retention and employee engagement.
Key takeaways from the session include:
Use your 1:1 meetings with employees to talk more about their sense of belonging and roadblocks you can help them with and less for oversight.
During this time of frequent changes, survey your people more often and use those responses to make meaningful change.
Create communications drip campaigns to announce major initiatives and employee programs and consider partnering with your learning team to create learning modules.
Remember that many people have been in the office and we've all been working, so be cautious with phrases like "Return to Work" or "Return to Office." Slickdeals is running with "Return to Fun," which we all love.
Well-being is about more than physical and mental health. Financial and professional well-being are important, too.
About the Panelists:
Ann Melinger, CEO, Brilliant Ink
Ann Melinger is the CEO of Brilliant Ink, where she and her fearless team of communications experts partner with companies to assess and improve their workplace experience. Ann has spent the last 20 years helping organizations understand the connection between employee experience and business success. From internal communications to change management – and everything in between – Ann has counseled companies of all shapes and sizes on how to improve their employee engagement.
Daniel Choi, Senior VP, People, Slickdeals
Daniel Choi is the Senior Vice President, People at Slickdeals, a leading social shopping platform. In this role, Daniel leads the entire people function. Prior to joining Slickdeals, he worked in various roles at BCG – Digital Ventures, Nike, Uber, Indeed, and others. Daniel received his bachelors at Penn State University and his Executive MBA at the New Jersey Institute of Technology.
Tara Johnson, Inspire HR Expert, Employee Engagement + Culture Communications
Tara Johnson has worked in Employee Experience and Culture Communications since 2004. Her experience includes employee communications, company culture, and employee engagement within a variety of industries, including tech, financial services, retail/e-commerce, and higher education. Tara has served as Senior Manager of Employee Connections at Etsy, Manager of Diversity & Inclusion and Community Service at Bloomingdale's and in career development at Columbia University and the University of Chicago.
Redesigning the Future of Work