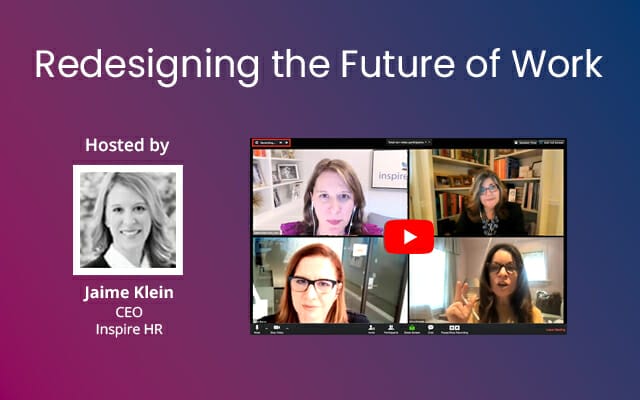 Return to Office, Work from Anywhere, Hybrid: Top Considerations
JUL 12, 2021
Return to Office, Work from Anywhere, Hybrid: Top Considerations
With vaccinations up and mask mandates down, every business and HR leader is thinking about what their future workplace will look like: RTO (return to office), work from anywhere, or hybrid. According to McKinsey, 68% of companies do not have concrete plans in place yet and only about 28% of office-workers are back in the office today.
There is no playbook and these decisions have major implications for performance management, enhancing engagement, diversity, equity, inclusion + belonging (DEIB), company culture, retention, and recruitment.
So, Inspire HR recently welcomed Erica Keswin, workplace strategist and best-selling author, Joan Burns, Executive Vice President of Human Resources at IDB Bank, and Meg Hayden, Inspire HR expert and global HR leader to discuss top considerations, including these top highlights:
The next phase is a shift from an office and employer-centric workplace to an employee-centric one.
Each company must have their own clear and strategic why for their decisions about the future workplace. It won't work to copy and paste policies from another organization with a different culture.
Examine the new rituals you've incorporated since the pandemic started and re-examine your old ones to promote a unique sense of team in the new environment.
Management training on communications, engagement, inclusion, and more in the hybrid model is crucial. Hybrid management isn't just flipping a switch.
Meet our Panelists:
Erica Keswin, Workplace Strategist and best-selling author
Erica Keswin is an expert in the business of working human. She helps top-of-the-class businesses, organizations, and individuals improve their performance by honoring relationships in every context, always with an eye toward high-tech for human touch. She was named one of Marshall Goldsmith's Top 100 Coaches in 2020, as well as one of Business Insider's most innovative coaches of 2020. She is the author of Wall Street Journal bestseller Bring Your Human to Work: 10 Sure-Fire Ways to Design a Workplace That's Good for People, Great for Business and Just Might Change the World and Rituals Roadmap: The Human Way to Transform Everyday Routines Into Workplace Magic.
Joan Burns, Executive Vice President of Human Resources, IDB Bank
Joan Burns has led HR functions in the banking industry for more than 20 years. As Executive Vice President of Human Resources at IDB Bank, internal communications leader and Chief Diversity Officer, Joan has led global HR strategy that includes responding to the COVID-19 pandemic and designing a strategy to best approach the future of work post-pandemic.
Meg Hayden, Inspire HR Expert, former Global CHRO
Marguerite (Meg) Hayden has worked across human capital disciplines since 1983, including as worldwide director of Human Resources at Berlitz and Global Head of Human Resources for Hewlett-Packard. Her global experience includes business transformation and organization design, workforce planning, talent acquisition, career development, succession planning, expatriate management, immigration, leadership development, compensation, benefits planning and administration, change leadership, HR operations and HRIS, employment law and compliance, and internal communication.
Redesigning the Future of Work